What to Wear to an Interview:
Men's and Women's Attire
With the trend towards in-person interviews increasing in the coming year, it is clear that when it comes to what to wear to an interview, confusion reigns. "Many have forgotten what professional wear even looks like," a recent article in Forbes states. A Wall Street Journal article went so far as to dub the dilemma over what to wear a "workplace Wild West."
Two things are clear: 1) first impressions still count (according to a recent article, first impressions are made in a mere seven seconds); and 2) working from home during the pandemic has changed people's "tolerance for conformity – and discomfort " (as stated in the Harvard Business Review).
This second point was reflected in comments on a recent Briefcase Coach poll on interview attire. One entrepreneur, reflecting the views of several other commentators, stated, "Wear what you want. Be you."
There will always be people who prize self-expression over conformity. But differing opinions aside, if you truly want to land that job offer, what are some guidelines for what to wear in an interview?
The answer depends on many factors, including what industry you are in, and where you are located. Tech workers in Seattle will dress differently for an interview than finance executives in Boston or graphic designers in New York. It also depends on whether you are interviewing at a start-up or an established company.
That said, there are things you can do to ensure you don't start out on the wrong foot.
The Importance of Due Diligence
Tom Gerencer, CEO of Blue Button Marketing and a CPRW and job search expert, suggests researching online in advance of an interview. "Look at the company's "About Us" page, and try to see what people in similar job titles are wearing. Also, do a people search for company employees on LinkedIn and see what they're wearing in their profile photos."
Gerencer also suggests researching based on the position you are interviewing for. "If you're trying out for a software engineer role, see what the software engineers at that company dress like. You don't have to be a lemming, but if you generally dress like people they've already hired, they'll have an easier time picturing you in the job."
Ask the Recruiter
Another tactic is to ask the recruiter and/or interview coordinator directly. "Don't be afraid to engage the interview coordinator about what to wear," advises Interview Coach Catherine McLean. "You'll get more specific advice. The goal should be to always dress one step above the current dress code at that company."
Know the Room
In the Briefcase Coach poll comments, IT leader David Reed also talked about the importance of "knowing the room," advice that several other poll participants enthusiastically echoed.
"Be comfortable…but make sure that your attire fits the culture and environment of the company you are applying to work with," adds Contract Recruiter COO Robert Monroi. "To land a job, try your best to look as though you already work with them. That means mirror everything from their attire, to their attitude and energy."
Executive Men's Interview Attire
What to Wear to a Business Formal Interview
Business formal is perhaps the clearest-cut choice. Business formal is just as it sounds – a full tailored suit, polished dress shoes, and a tie. Solid, neutral-colored suits in a plain dark colors like charcoal gray or navy blue are safe choices. Resounding advice across the board for both men and women was that when in doubt, opt for a more formal look, even if you risk looking a tad stodgy. "Better to overdress than underdress," said events planner Emily Blodgett.
Oscar Wilde once said: "you can never be over-dressed or over-educated". While I don't think it's the answer to every single wardrobe question, I would much rather find myself too formal than too casual. Easy to remove a blazer. Much harder to put one on if you didn't bring it!

Emily Bouchard Blodgett, Events Planner
What to Wear to a Business Casual Interview
Business casual is more appropriate interview attire when interviewing at a small business, a role in construction management, or with a company with a known relaxed culture. For example, for men:
A simple well-fitting Oxford button-down is fool-proof (you can dress it up with a tie or sweater if need be)
Choose an Oxford that is blue or white or one that has a subtle check or stripe pattern (avoid loud colors or distracting patterns like gingham!)
Clean navy blazer (not a suit jacket) with a white shirt is another fool-proof look – make sure your shirt and blazer are ironed
For tech interviews, career coach Austin Belcak of Cultivated Culture recommends that men going for a smart casual look wear an outfit of button-down shirt (no jacket or tie), khaki chinos (avoid jeans), and casual leather or suede shoes. Make sure if you wear a belt that, it matches your shoes in terms of lightness or darkness.
If you have any confusion about the difference between smart casual and business casual, remember that business casual is simply a step up from smart casual with the addition of the jacket.
Executive Women's Interview Attire
What to Wear to a Business Formal Interview
Business formal, a great choice is classic tailored slacks and a matching blazer in conservative colors (black, navy, or grey), along with a neutral (or crisp white) blouse or a dress or pencil skirt with a matching blazer. When it comes to footwear, heels or flats are good, preferably black. Wear understated, classic jewelry.
We examined the photographs in Fortune magazine's 25th anniversary of the Most Powerful Women list. According to Fortune, all 50 of "the women on this list either are CEOs or very likely will be—either at their current company or a competitor." 24 out of 50 women were photographed wearing a blazer over a solid colored top or dress and conservative accessories.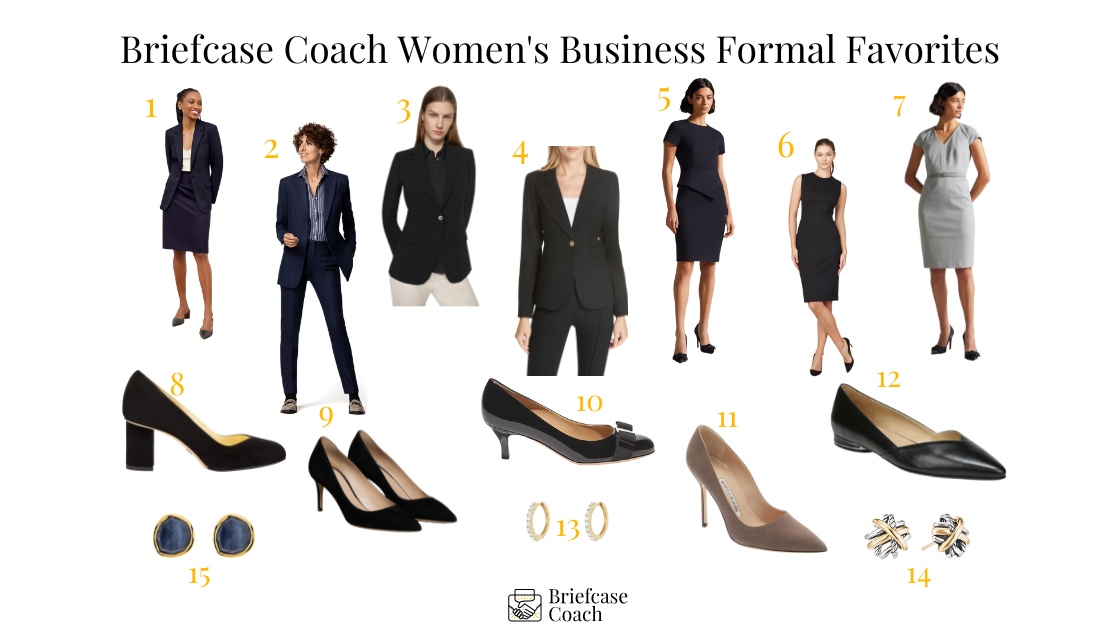 What to Wear to a Business Casual Interview
Business casual for women is a slightly more conservative version of smart casual. Wear tailored dress pants, and consider adding a blazer over a neutral-colored blouse. For shoes, pumps or sleek flats are the perfect choice. For this look, avoid denim (even black). Accessories should be sleek and not too noticeable.
If you prefer, you can wear a knee-length black dress and tights, along with flats or boots with a low heel. Jewelry should again be simple and classic.
When dressing smart casual, women can afford to be a little more stylish. A button-down top and Chinos in conservative colors such as navy or khaki would be perfect. Ankle-cropped pants are also a good choice, and you can choose to wear either conservative heels or ballet flats (be sure your shoes are recently polished and not scuffed or looking worn). Jewelry should be simple and not distracting (think studs, not huge hoops or dangling chandelier-type earrings).
In colder weather, you could wear a sweater or heavier material pants (such as black jeans, never blue) paired with boots or ankle-length booties with short or reasonable heels.
Comfort and Cleanliness
Whatever you choose to wear, style is important but comfort should also be a priority. This is not just a nod to the fact that most people have been working from home in t-shirts and sweatpants for the last two years. It is common knowledge that if you're comfortable, you'll feel more confident and will be able to project your best qualities.
Along these lines, make sure all clothing fits properly and that there are no stains, loose threads or buttons, or anything else that would distract from a neat, clean presentation.
Finally, it's important to keep in mind rules for both in-person and virtual interviews. Following are some top tips for both men and women:
In-Person Interviews: 3 Top Tips
Give your interview attire a test run. For in-person interviews, Catherine McLean recommends giving your clothing and shoes a test run. "Your clothing choices shouldn't be distracting to you or your interviewers. Make sure you can sit/stand freely, that your shoes fit comfortably in case you are brought on a tour, and that jewelry is classy but not too noticeable (i.e., no jangling bracelets).
Don't wear something new. "Don't wear something new to an in-person interview!" cautions McLean.
Note to men: Carry a tie. "You can't go wrong with a collared full-sleeved shirt, blazer, and comfy trousers (not jeans)," international career coach Sonal Bahl advises men heading to an interview. "And I often advise my clients to carry a folded tie in their pocket, just in case. There's nothing like being overprepared!"
Virtual Interviews: 5 Top Tips
Contrary to popular opinion, virtual interviews are not a license to take a more casual approach to interview attire. Master Image Consultant Gail Morgan offers the following tips for an on-screen interview::
Check your background – use the blur or zoom backgrounds if necessary
Face towards the natural light if possible or use a ring light.
Women – wear a collar &/or an interesting (but not distracting) accessory near your face – scarf, necklace, earrings, or brooch. If you are fair, check your eyebrows, as they can disappear on the screen, so use an eyebrow pencil.
Men, if appropriate for your potential job title, you could wear a tie, but if not, avoid wearing an open-necked, plain white shirt. Choose a plain or patterned shirt instead and ensure that it is ironed.
Women, feel free to wear a suit jacket if you are interviewing for a very corporate role. Otherwise, wear a colored blouse or shirt (plain or patterned). Be aware of any strobing on screen if the pattern is too small, and avoid shiny fabrics as they can look strange on camera.
Briefcase Coach Interview Coach Lis Evensen also recommends getting fully dressed even for virtual interviews. "When you feel confident, it comes through in the way that you present yourself," she says.
Once you land the job, you can begin experimenting with the evolving post-pandemic business dress code. Comfort and authenticity, the aforementioned article in Harvard Business Review states, are the new watchwords, but first, be sure to get that offer